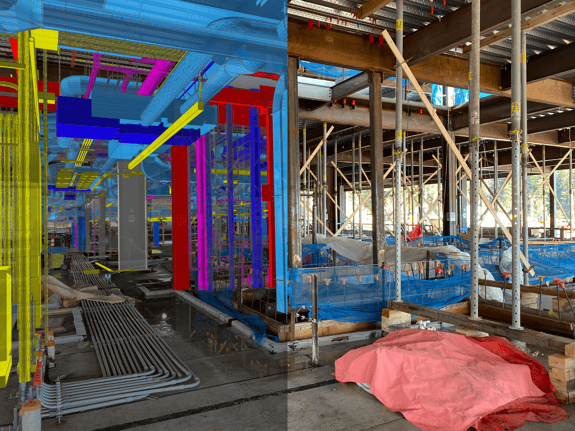 SEE RELEVANT DATA
WHERE YOU NEED IT. WHEN YOU NEED IT. THE WAY IT MAKES SENSE TO YOU.
EMPOWER YOUR TEAM
GIVE YOUR PROJECT TEAMS A WAY TO BUILD FROM BIM IN REAL-TIME
Spectar supports those of you currently creating 3D models, including families with metadata, material IDs, etc. You navigate a full coordination effort with your project team to deliver the most reliable model for project teams to build accurately. When you convert everything to 2D drawings to be used on-site, you lose the value of your work.

If you are frustrated by this "normal" process and believe BIM development work deserves a better output than 2D flat plans, Spectar is the solution for you.
HARDWARE
Project crew members use the device to see the BIM model on the jobsite, in addition to the data they personalized. Spectar is built for the field, and fits seamlessly with PPE hardhats.
SOFTWARE
Convert your BIM model and deliver it to the wearable hardware, so your field team can work and build with the current model. Powered by Microsoft Azure, it works online and provides an offline feature for remote jobsites.
SERVICES
Construction expertise & 5 years of product refinement allow us to extend value-adding services. Guide your teams to maximize the value of AR on the jobsite, and design the services to fit your project needs.
IMAGINE
WALKING THE JOBSITE AND SEEING EVERY ASPECT OF THE BUILD YOU NEED TO KNOW, RIGHT IN FRONT OF YOU